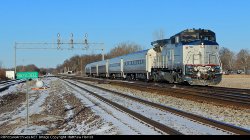 Welcome to the RRPictureArchives.NET contributor site of Matthew Harrell.



Welcome to my photo site covering the NS' ex-Wabash Detroit-Kansas City mainline and the other railroads operating in and around Springfield, Illinois. If you're a die-hard NS fan, then you've come to the right place. However, I do frequently shoot Amtrak, BNSF, CN, I&M, KCS, and UP trains as well. I hope you enjoy your visit! - Matt Harrell

See more photos on my Flickr site: www.flickr.com/photos/ns145


Norfolk Southern's West End: "The Automotive Artery"



You may browse my collection of pictures via the menu located on the left hand side of the page. I hope you enjoy the collection and thanks for stopping by!
Note: This site is best viewed in Internet Explorer 6.0 or above.
Select one of the links from the menu on the left to begin browsing the collection.